Own that stage become a confident  Public speaker!
Great Business Platforms, 3 online Skills sessions  will equip you with
 

"7 Ways To Get What YOU Want By Using these brilliant public speaking strategies. Based on our WALACAP model ", you will learn simple, practical, learnable and transferable skills

 

 
Your message will suddenly become crystal clear and received by your listeners.
 You will automatically start to be perceived as a competent authority in your subject area.
You will be taken more seriously by your audience
 Your speech will inspire confidence in anyone listening to you
The law of attraction will magnetise towards you whatever you are seeking including money.
Also
You will experience an Internal transformation, the energy that previously was squeezed up in a ball of anxiety and self-doubt will untangle and dissipate.
No more fear of public speaking or stage fright, dry throat and quivering voice pitches will be regularised
You will feel forgiven and free enough to start again, without emotional baggage, you will share your message with clarity and confidence
PLUS A BONUS
One to One  Session for 25 minutes to seal that confidence with one of our experts  and
An Extra Bonus
A fifteen-minute recording on the Principles of Emotive Branding ( this is a massive gift) and should be used to win over anyone at home, or work, Including Family members or difficult work colleagues.
Next training starts on Monday  24th of September  2018.
Time 9.30 till 11.30 am GMT  and evening session 7.30 till 9.30 pm, Three consecutive sessions to be confirmed with delegates.
Venue: Online- With Real time interaction in a small video group, and further private group support
Do not miss this course we have the most amazing testimonies of people suddenly waking up to audacious public speaking after learning and practising our WALACAP MODEL Personally delivered by Sam Onigbanjo.
Join by clicking below, when you join you will also get a FREE copy of  37 Business Thoughts, a brilliant business aid written by Sam Onigbanjo.
Read a recent testimony below
---
Dear Sam,
I would like to say thank you for all your support and guidance during my toughest journey at work.
I met up with Sam Onigbanjo a day before my speech at the IVY London. We were discussing another event. Whilst discussing another project. I shared with Sam about my big upcoming speech.
Sam just smiled and got up and started to mirror my speech and advised me about my hand posture and voice speed.
What really got to me was when he said there is more to this.
Sam said on the inside you need to be in control and project it to the outside. His words were "you have to be a god to your audience above and in control"I can share at my actual speech I went up more confident with no paper in my hand.
At the end someone made a £5000 donation in my hand to Alzheimer's society and a weather presenter of 20 years Sian Lloyd said "Shareen with this type of speaking style you are going places"
Thank you my name is Shareen Qureshi, and I work as a Vice-President  for Barclays Bank.
Thank you
Regards
Shareen Qureshi
VP | Market Development Manager London South | Premier Banking |
---
What a Testimony!
I would like to personally Invite you to take action, Join me and a small group of action takers and I promise to change your approach and confidence level in Public speaking from the Inside out!
Wishing you Good Success, Great health and Lots of Love in your Life
Sam Onigbanjo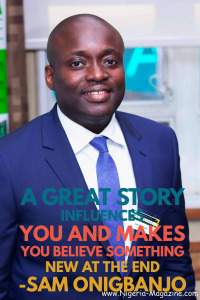 Cost: £249 click below