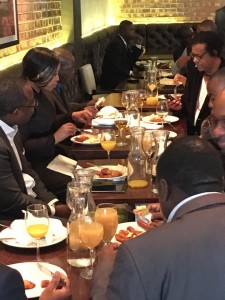 If anyone tells you, Black Men can't achieve much…tell them to sit down fast!
Saturday, the 19th of November 2016, was the date for the Men's Big Business Breakfast, organised by Business Leader Sam Onigbanjo.  Held at ESQ Bar Old kent Road London, part of the 805 Restaurant Chain.
By 9.45am there was a gathering of men, prompt for the 10 am start.
The first Speaker on the Monday was Mr Stephen Mwale, MD of Simply Accounts; he shared points that every and any serious business man/woman would need to keep money and stay within the Law. Two key things he mentioned that stood out to me were (1) Remain honest in your finance and taxation, a healthy balance sheet will help you in the future to attract cheap funding. (2) If you have children aged 16 and above, you can save so much more money if you own your own business.
The second speaker was, Pumela Salela, Country Head, Brand South Africa in the UK, she opened up her speech with a gift bearing exercise to all attendees, then she proceeded in sharing some of the extraordinary opportunities that South Africa offers to any Interested business person. An area that Interested me in her speech was the Allied –Agriculture sector, which she pointed out was a no-brainer for anyone interested. She shared her contact details with all delegates.
The third speaker, Pax Knight, focused on a Key "Business" topic which was keeping the Honey in your relationships. His speech was received with excitement and controversy. While we heard from a gentleman in the audience, who had been married and divorced three times, another man who spent more time in academic holding three master's degrees and another Man who doubted if it was possible to marry and stay married. Needless to say at this junction the two ladies who dared to attend the Men's Business Breakfast were asked for their views, supported by two other men who indicated they had been married for 20 and 26 years and still happy.
The Men's Business breakfast has not finished with the topic of Honey in your relationships.
What stood out to me most in his session was when this speaker (Pax Knight) was asked about a relationship shutting down like an aeroplane losing all its engines, the question posed being when was the best time to parachute out before the crash. Pax Knight an aircraft engineer and pilot replied " What you don't know is that a plane is built and designed to glide if the engines shut off. So I left there thinking don't parachute out of a relationship, Glide!
The fourth speaker, was Amara Kanu, Architect and fitness guru, she kept her speech simple and dovetailed the session before. She shared on positive Energy, and her physical appearance had some men whispering "I need to send my wife/partner to her"What stood out to me in her speech was when you keep yourself fit and healthy you will always be more prepared for an enjoyable sex life with your partner.
The Last speaker Architect Emeka Okoye, Flew in from Nigeria and shared one simple message, the opportunity to invest and buy real estate in Ibeju-Lekki, very close to Dangote's new refinery the largest in the world. The opportunity part of a massive real estate opportunity in Lagos, Nigeria is one not to be missed.
The Men's Big Business breakfast is organised and hosted by Sam Onigbanjo, Sam is the Author of 37 Business thoughts and an exemplary Business leader and Coach. With numerous success stories emerging from his coaching programs. Featured on CNBC News and Virgin Entrepreneur, Sam  Onigbanjo is indeed  The Coach for Business leaders.
If you would like to know more about this business network and its services email sam@greatbusinessplatforms.com
LinkedIn Sam Onigbanjo
Twitter @sammiedollar
Instagram Sam Onigbanjo
https://greatbusinessplatforms.com/wp-content/uploads/2016/11/Chris-and-Charlie_n.jpg
720
960
Business Coach
https://greatbusinessplatforms.com/wp-content/uploads/2016/06/Logo-Recovered-300x70.jpg
Business Coach
2016-11-21 13:24:44
2016-11-22 10:52:52
If anyone tells you, Black Men can't achieve much…tell them to sit down fast!