You are invited to the first Men's Big Business Breakfast of 2017
           Theme : Catapulting your business higher in 2017
  

 Sam Onigbanjo

, The Host and Conveyor, will be sharing on how to effectively communicate any message you have in a personal, professional or Business capacity. Remember 69% of the
average Human's life is spent communicating with others verbally, through social media, in

person, or in writing. If you are going to

learn one new skill in 2017, then it has to be how to improve your  Effective Communication

.

Amara Kanu, Architect and Fitness guru, will be sharing on how to keep your energy high. Without excellent health and energy, you are a step closer to the grave. Amara will share practical tips on how to keep in top form and peak energy for your daily activities in Business and your social life.

Dr Charlie Easmon, MD of YES Excellent health care, at Business resident of 1, Harley-street will share on how not to do Business if you really want to be successful in 2017.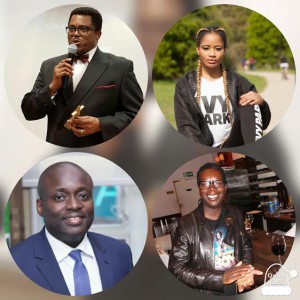 "The Men's Business Breakfast is a quarterly Business breakfast where Men can come together in a relaxed environment and discuss issues over a hot full buffet breakfast"-Sam Onigbanjo
Date : Saturday the 11th of February 2017
Time: 10am
Venue: ESQ Bar at 805 Restaurant, Old kent Rd SE15
Entry is free but the hot African buffet breakfast and drinks is £20 per delegate
  Register here for  Free entry  goo.gl/T7EQV1
https://greatbusinessplatforms.com/wp-content/uploads/2016/11/Chris-and-Charlie_n.jpg
720
960
Business Coach
https://greatbusinessplatforms.com/wp-content/uploads/2016/06/Logo-Recovered-300x70.jpg
Business Coach
2017-01-23 18:22:10
2017-01-23 18:37:23
The Men's Business Breakfast Feb 2017