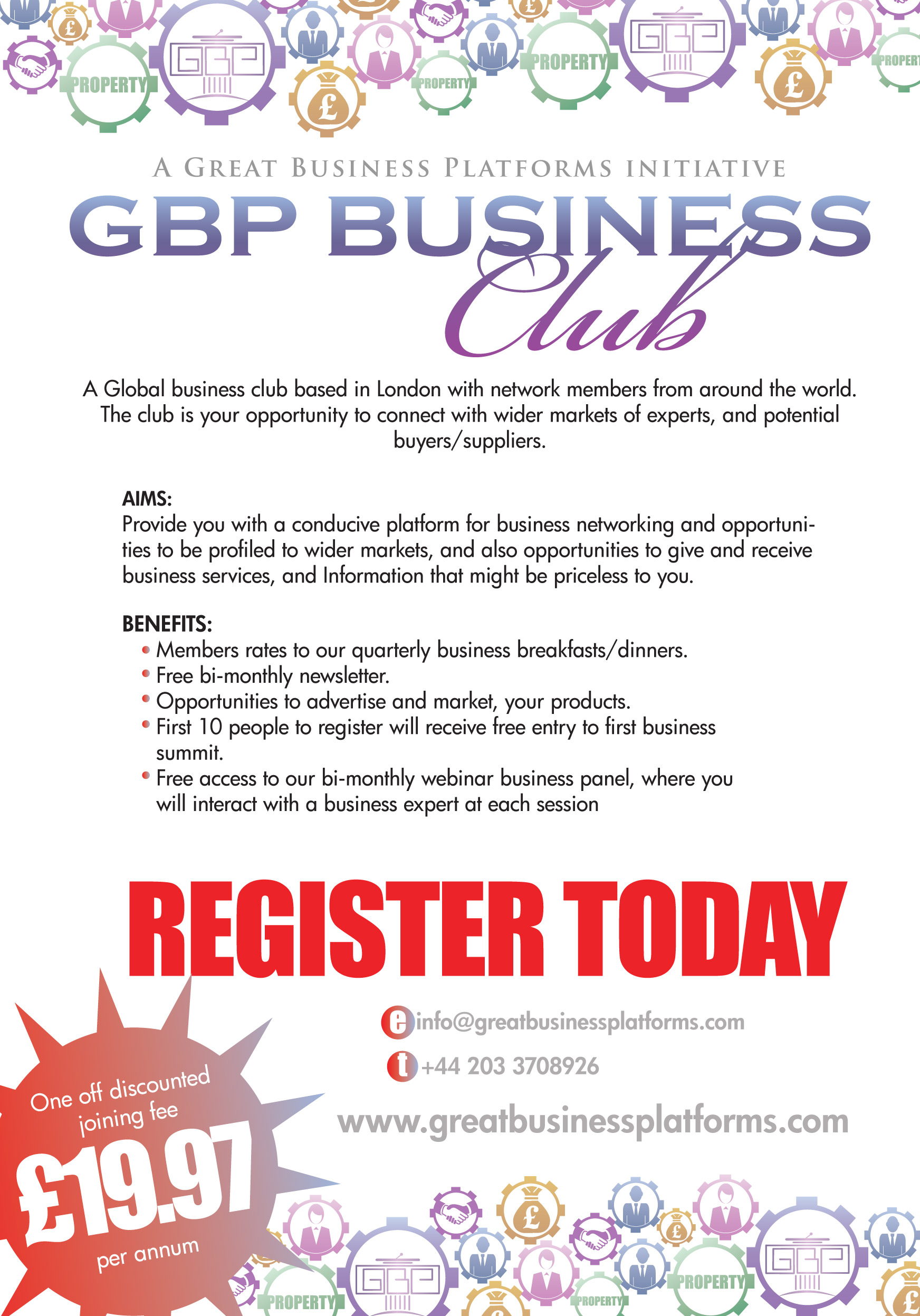 Great Business Platforms Business Club, is created for people who want to
Network and meet other business people.
Businesses  seeking joint ventures ,Including financial or skills Investments
International Business People visiting the UK
Expert advisers in target sectors
Business owners seeking new markets 
People that are seeking diverse business partnerships
Business leaders seeking , Industry specific mentors or coaches
People who want to quickly sell or invest in property
The only thing that is constant in this dynamic world is change! If you want to grow your business and Influence by riding the wave of change, then join us as we provide the platform to seal the deals.
Our Benefits to you Include but are not limited to :
    Member rates for our quarterly business breakfast/dinners.
 Free bi-monthly newsletter.
Opportunities to advertise and market your products
First 10 people to register will receive free entry to first business summit.
Free access to our bi-monthly webinar business panel, where you will interact with a business expert at each session.
What to do now!
Once you join , you will start to receive our newsletter and early Information on our next business breakfast/dinner  date ,in July 2014, before it sells out!
You will also receive a list of attendees before the event so you can prepare for your networking.
If you really want to network with dynamic business people you can't but register below!
We also have Gold and Corporate packages ,for more Information email info@greatbusinessplatforms.com
  To Join us click on the button below and start benefiting  from our Information and networks before the others get a chance !
This offer price is Introductory and time limited!
It's your turn to excel in business, join us now by clicking on Subscribe below!